Halloween Night Ex-HMAS Brisbane Single Dive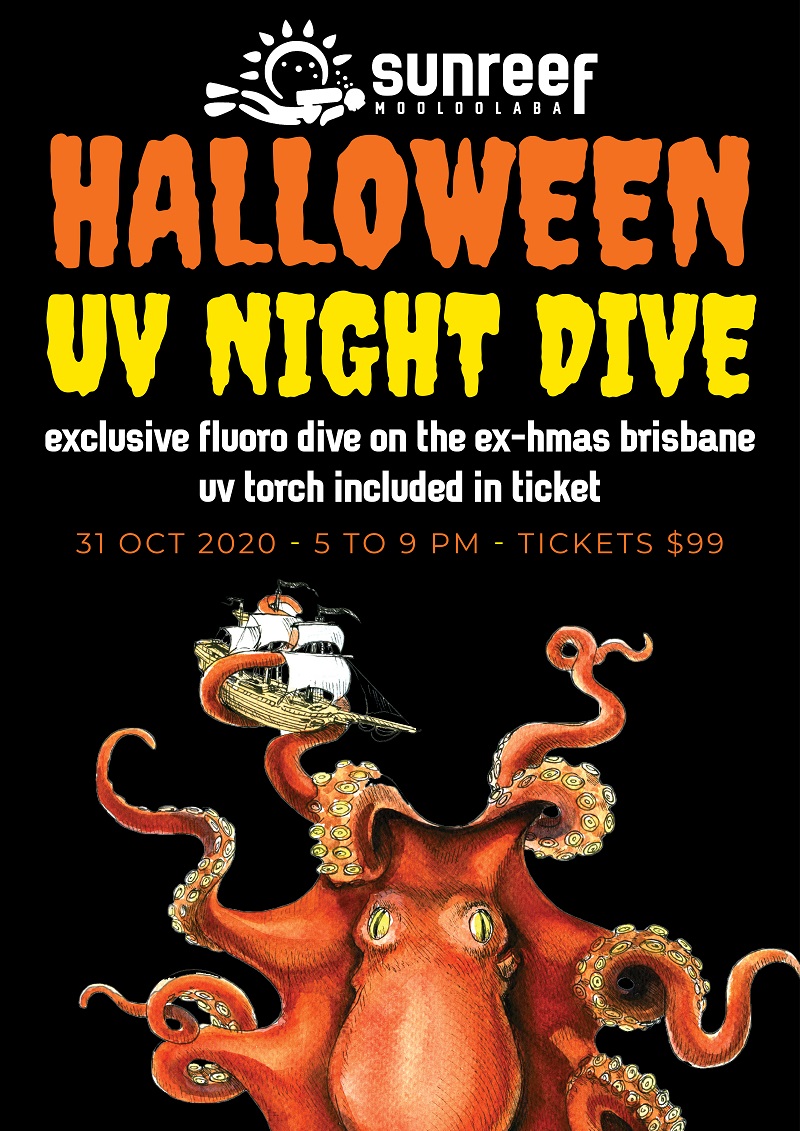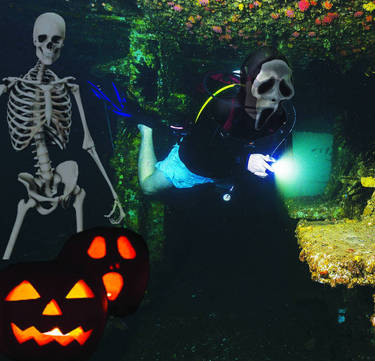 Duration: 5 Hours
Location: Mooloolaba, Queensland
Join us for a special Sunreef event for some spooky Halloween fun. Dress up in your scariest best for a UV Night dive on the Ex-HMAS Brisbane. Usually, we host our UV/Fluoro dives for $109 on the local reefs, but for this Halloween Dive, your UV torch is included in the $99 price, and the dive is on the Ex-HMAS Brisbane! ???

---
The feel one has when entering "the darkness" in the water on any night dive is fleeting and exhilarating.
Eels leave the shelter of their holes as they search for a meal. Octopus are more active. While daytime fish slumber, changing their coloration to better blend in with their environment.
With the ultraviolet light we provide you, you'll see this marine life lights up in unexpected colours and places. Corals glow with a bright florescence that you otherwise would be unable to detect. Fluorescence night diving is like finding a hidden treasure.
Visibility is slightly more limited than with your normal flashlight, but the world around you will be glowing. You'll most likely need your buoyancy skills to kick in, as you can expect to be moving at a slow pace, or even hovering for most of the dive.
---
The UV torch is included, however you will need to also have 2 white light ("normal") torches. A night dive on the Ex-HMAS Brisbane is entirely different from any in the day. The feel one has when entering "the darkness" in the water on any night dive is fleeting and exhilarating. That being said, on a missile destroyer wreck, there is a mystical feeling about it, as one compares its current life with that of its past. The Ex-HMAS itself provides protection and hiding places for many creatures in the day, which then come out at night. Many different crustaceans come out, such as crays, decorator crabs, and cleaner shrimps. Eels leave the shelter of their holes as they search for a meal. Octopuses walk the corridors that sailors once did. Nocturnal squirrelfish swim in and around the wreck, while daytime fish slumber, changing their coloration to better blend in with their environment.
On your arrival to Sunreef, we will check you in and see that your gear is organized, whether you prefer one of our staff to set up for you, or you would like to do it for yourself. We'll then depart out to one of our local reefs. Each diver will have a torch, and be given a thorough briefing about the dive as the boat traverses the calm waters of the Mooloolah River. Once the boat is at the wreck and moored, the crew will help get divers into the water. The dive will last for 50 minutes, or as soon as a diver or their buddy reaches 50 bar, whichever comes first. The divers then return to the shop, where gear is washed for you.
---
The dive site:
Dive one the world's best wreck sites, the Ex-HMAS Brisbane, a decommissioned guided missile destroyer. Located just 2.9 nautical miles offshore which makes it an easy venture out and is available to dive all year round.
Sunreef has exclusive use of the two midship moorings, making for two leisurely dives that allow divers to comfortably and safely visit the entire wreck.
Explore the outside of the wreck and encounter an abundance of local aquatic sea life that inhabits her. Discover the depths of her hull, enter the engine room or even visit the control room where her kill switches are still intact.

The vessel now serves as a world-class artificial reef and diving site. She has attracted divers from all over the world. Divers from Open Water level, to Divemaster, Instructors, dive shop owners and ex-servicemen who served on the HMAS Brisbane all sing the praises of this great wreck dive; She seems to be in the perfect diving spot. Sitting bolt upright the Ex-HMAS Brisbane has 15 metres of water over her forward decks and 18 metres over her stern. Consistently good water clarity and minimal swell makes for great diving. Just one dive on the Ex-HMAS Brisbane, and you readily understand why Sunreef is privileged to have been issued a licence by the Environment Protection Agency of the Queensland Government to conduct dive trips on the former HMAS Brisbane. The dive is phenomenal. There is certainly a lot of ship to see.
Just cruising around the outside, its sheer size makes it an awesome sight. Water temperatures range from 17C in winter to a summer high of 27C. Visibility averages around 15 metres but up to 20 metres or more is not uncommon. Environmental studies commissioned by the Environmental Protection Agency and conducted by scientists from the University of the Sunshine Coast and Queensland Museum confirms the diversity of marine life that has made the Brisbane home.
Local inhabitants include a large bull & eagle rays, angler fish, lion fish, blennies, nudibranchs, sea hares, squid and a school of juvenile red emperor and snapper. Other visitors include a shovelled nose rays, greasy cod and eagle rays. An octopus has made a home in a pyrotechnic tube on the deck. A resident school of predatory yellow tailed kingfish now 'buzz' the schools of of bait fish that surround the Ex-HMAS Brisbane. Up to 10 huge Queensland grouper have been seen at one time off the bow of the ship. A turtle has taken up residency on the aft funnel and eagle rays cruise between the 2 funnels. There's also a huge amount of soft corals to be seen and hard corals are really getting established as well.
---
Reminder for divers:
Please note you will be required to fill out a Divers Statement after booking. This is to be filled out one time only. If you answer "yes" to taking medication (other than contraception and malaria medication), having an injury or illness that may affect your ability to dive, you will need doctors clearance before diving with us. If you are pregnant/trying to become pregnant, you cannot dive.

As with all dives, the night dive is subject to weather, and we will send out an email and text the day before at 3:30 pm to confirm the trip and its departure time.

Please note if you have not dived in the last 2 years you will be required to complete a Scuba Review/Refresher course before you can participate in any diving activities.
These can be arranged on most days at set times provided we have at least 3 days notice. Please contact us on 07 5444 5656 for more information.
This is also in open water and we suggest that you look into seasickness medication to minimize the chance of it impacting your trip.
It is necessary for you to give us at least SEVEN (7) DAYS notice should you need to cancel or transfer your booking. Failure to do so will incur a cancellation fee equal to your charter fee.