Canon Collective Photography Double Dive on ex-HMAS Brisbane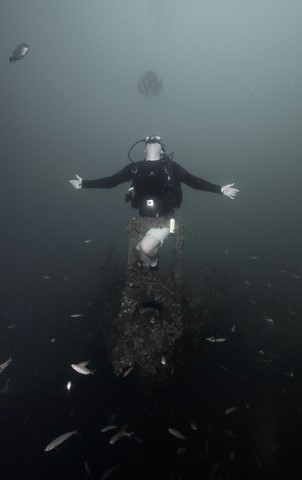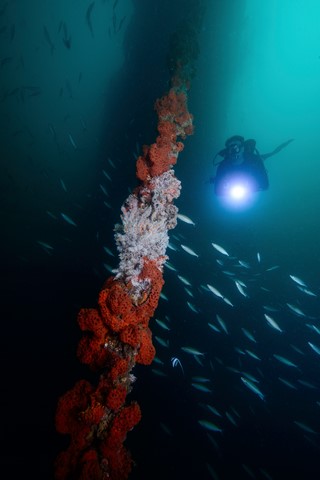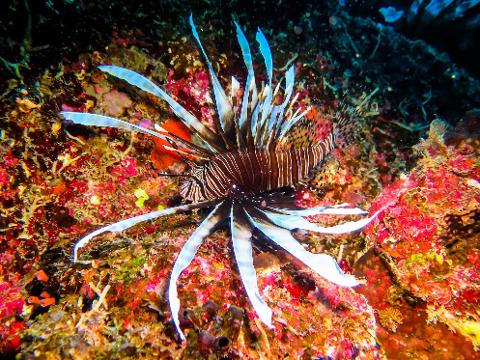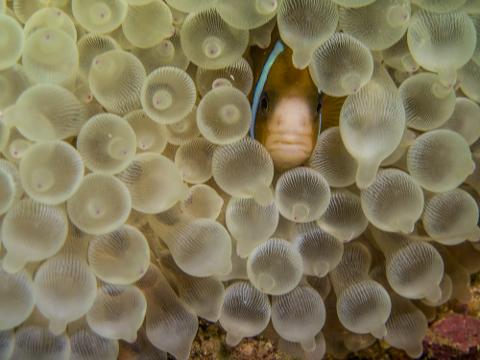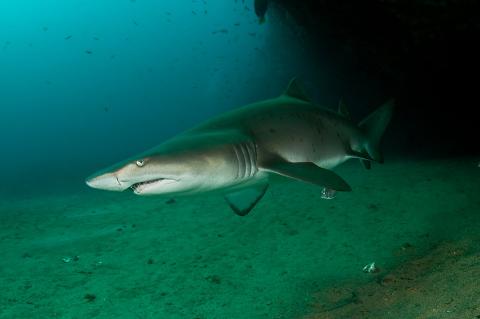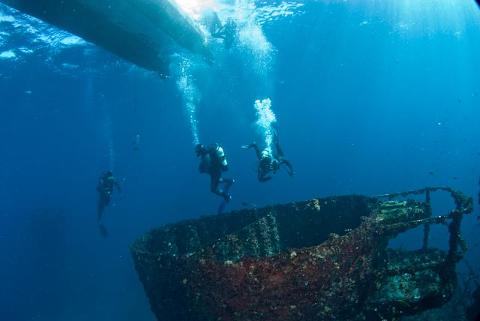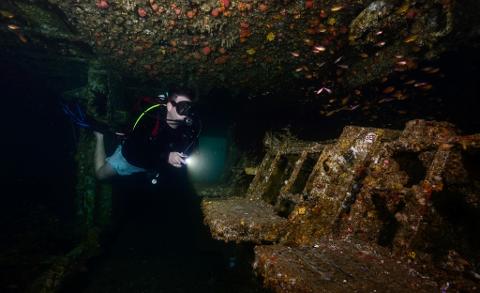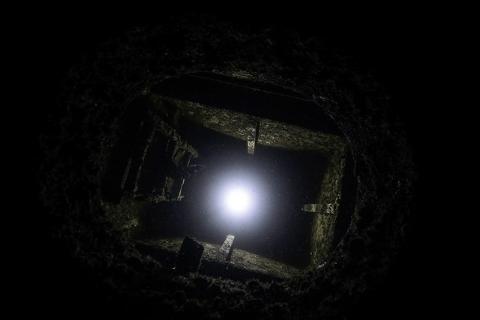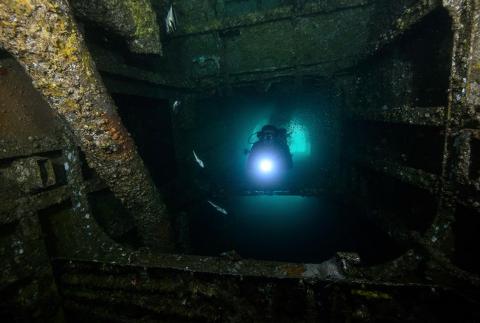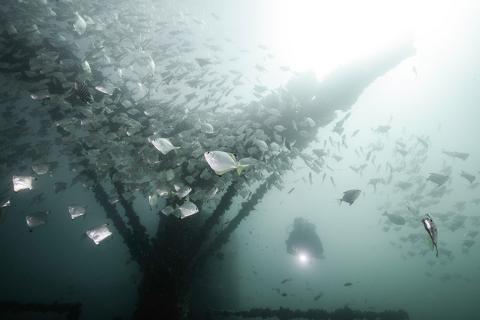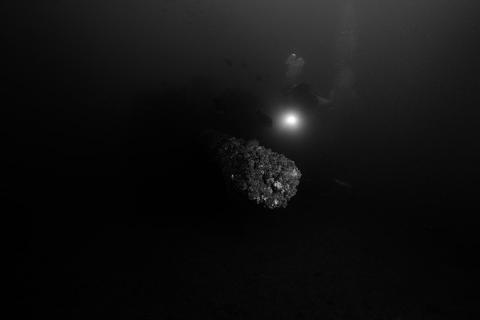 Duration: 5 Hours (approx.)
Location: Mooloolaba, QLD
Product code: CANONHMAS
Whether a novice or an expert, this day offers any camera enthusiast an opportunity to create fantastic photos, and enhance their photographic ability. Join us for our Canon Collective date, where we bring in a Canon representative who can best help you get the most out of your underwater photography.
Don't have a camera and/or an underwater housing? That's generally okay, as we and Canon provide underwater camera setups for these specific days. We do have limited availability though, so please let us know if these cameras are something you would like to take advantage of. At the end of the day, you can also keep the SD card, containing all of the photos you have taken on the day.

On your day, we begin with a pre-dive briefing at the Sunreef shop with a Canon representative, ensuring your camera settings will get you the most promising result. As it can be early, you're more than welcome to a free coffee from Sunreef, which you can enjoy during the camera briefing. We then arrange any dive equipment that you need to hire, and if you have your own, you can set this up at this time. Once everyone is checked in, gear is ready, and the boat is organised, we're off to the ex-HMAS Brisbane. Depending on the day, your photography focus may change. For instance, some days have better visibility than others. If there is less visibility, you may choose to focus more on macro photography. If the water is clearer, landscape shots may be an option. The day's weather, diving conditions, and recent animal sightings also impact what site we will choose for the day, as we try to give you the best result. Once we anchor the boat, the crew will help get all divers into the water. The dive can go for 50 minutes, or until one of the divers in their buddy team gets to 50 bar, whichever comes first. We then have a 30 minute surface interval before getting back into the water for a second dive. The Canon representative will also be diving on the trip, so you are welcome to ask any questions whilst on board the boat. After dive 2, we return to the shop, where there is a post-dive briefing, and hot wedges and cold drinks ready for you. During this time, the Canon representative will instruct you on how to best get your desired result. Using Adobe Lightroom, we take a look at how to adjust particular settings to maximise each photo's potential. If you are diving with your own gear, the dive crew can also wash your gear for you. This will happen during the briefing, and then you can collect your drying, freshly washed gear before departing. Sunreef will also give you a souvenir, such as a t-shirt or a stubbie cooler, as a thank you for choosing us.

The dives are on one of the world's best wrecks- the EX HMAS Brisbane, a decommissioned guided missile destroyer. Located just 2.9 nautical miles offshore which makes it an easy venture out and is available to dive all year round. Sunreef has exclusive use of the 2 midship moorings, making for 2 leisurely dives in which you can visit the entire wreck comfortably. Explore the outside of the wreck and encounter an abundance of local aquatic sea life that inhabits her. Then explore the depths of her hull, enter the engine room or even visit the control room where her kill switches are still intact.
The wreck now serves as a world-class artificial reef and diving site. She has attracted divers from all over the world. Divers from open water level, to divemaster, instructors, dive shop owners and ex-servicemen who served on the HMAS BRISBANE all sing the praises of this great wreck dive; She seems to be in the perfect diving spot. Sitting bolt upright the HMAS Brisbane has 15 metres of water over her forward decks and 18 metres over her stern. Consistently good water clarity and minimal swell makes for great diving. Just one dive on the HMAS Brisbane and you readily understand why Sunreef is privileged to have been issued a licence by the Environment Protection Agency of the Queensland Government to conduct dive trips on the former HMAS Brisbane. The dive is phenomenal. There is certainly a lot of ship to see.
Just cruising around the outside, its sheer size makes it an awesome sight. Water temperatures range from 17C in winter to a summer high of 27C. Visibility averages around 15 metres but up to 20 metres or more is not uncommon. Environmental studies commissioned by the Environmental Protection Agency and conducted by scientists from the University of the Sunshine Coast and Queensland Museum confirms the diversity of marine life that has made the Brisbane home. A resident school of predatory yellow tailed king fish now 'buzz' the schools of of bait fish that surround the HMAS Brisbane. Local inhabitants include a large bull & eagle rays, angler fish, lion fish, blennies, nudibranchs, sea hares, squid and a school of juvenile red emperor and snapper. Other visitors include a shovelled nose rays, greasy cod and eagle rays. An octopus has made a home in a pyrotechnic tube on the deck. Up to 10 huge Queensland Grouper have been seen at one time off the bow of the ship. A turtle has taken up residency on the aft funnel and eagle rays cruise between the 2 funnels. There's also a huge amount of soft corals to be seen and hard corals are really getting established as well.
Bear in mind that the wreck is 27 meters deep, and whilst we don't require an advanced diver qualification or a nitrox qualification (also known as enriched air, or EANX), both can be handy to have. We offer nitrox tank fill upgrades for free, which can be helpful when diving a bit deeper for longer. This can impact your dive time for dive 2 as our surface interval time is limited. If you are not nitrox certified, we offer nitrox courses for $99, which can be conducted on the day. See our nitrox course page for more details. Our advanced course covers deeper dive principles, along with other diving aspects, which can prove useful on these dives. See our advanced course page for extra information.
Reminder for divers:

Please note if you have not dived in the last 2 years you will be required to complete a Scuba Review before you can participate in any diving activities.
These can be arranged on most days at set times provided we have at least 3 days notice. Please contact us on 07 5444 5656 for more information.
This is also in Open Water and we suggest that you look into Seasickness medication to minimize the chance of it effecting your trip.