zBike Hire DO NOT USE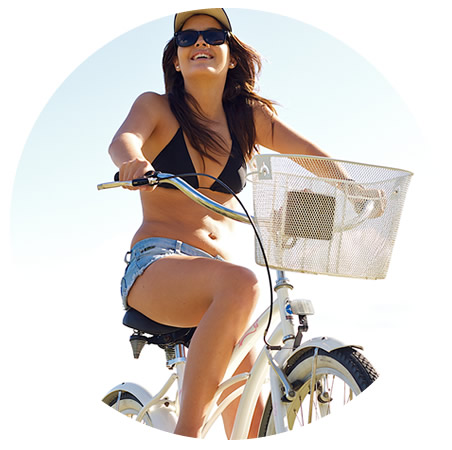 Location: Mooloolaba, QLD
Go sightseeing at your own pace on the retro Townie Cruiser See all the natural beauty the Sunshine Coast has to offer at your own pace on The Retro Coastal Cruisers. Comfortable and peaceful riding these bikes is perfect for the whole family to enjoy.
Take the scenic route along the river to the best coffee stops on the coast. We will provide you with a fun filled map with great spots highlighted, so if you're after a spot of lunch, shopping or just sightseeing come and see us.
Bike Selection Retro Beach Cruiser with front basket, 7 gears Hybrid from XL to Medium and small frames, 21 gear Mountain Bikes, BMX, Kids bikes. To see all the bikes follow the selection link.
Times

Monday – Friday: 8.00 am – 5.00 pm
Weekends – 10.00am – 4.00pm
Earlier times need to be pre – booked and are not always available. (Call 07 5444 5656)
IT IS EXPRESSLY UNDERSTOOD AND AGREED BETWEEN THE PARTIES THAT;
The lessee agrees that he/she is fully responsible for all and any damage to the bicycle(s) including punctured tires,buckled wheels and or equipment during the hire period and agrees to pay for all repair or replacement cost.
The lessee agrees that he is fully responsible for all losses if the bicycle(s) and or equipment is/are lost, stolen or destroyed. In the event of such an occurrence, charges are as follows: – Bicycle $450, Puncture tire $ 40, Buckled wheel $ (repair or replacement cost), Basket $50, Helmet $32, Lock or key $25. Scratches on frames will be charged $ 25 per scratch.
Cleaning fee $ 25 per bike. A penalty fee of $ 90 per bike will be charged if ridden on the beach.
When leaving the bicycle unattended it must be secured with the lock through the frame to an unmoveable object. In the event of the lessor being called out to unlock a bicycle due to key loss a $25 call out fee is chargeable.
Lessee agrees to pay for any and all damage of rented bicycle(s). Charges will be paid for with the deposit, cash or credit card used in the deposit.
All riders must wear a helmet, which is provided by the lessor. Alternatively their own helmet.
The lessee have inspected the bicycle and equipment prior to the rental agreement and by the execution of this agreement the lessee confirms that the bicycle is in a good roadworthy condition and has no damage or defect whatsoever other than what may be noted in the "Hirer Details".
Night cycling is not permitted as the bicycles are not fitted with lights.
Bikes not returned at the specified time will incur an extra day rental charge.
The lessee agrees that the bicycle will not be ridden by anyone but the named participant on each of the pre-rental inspection details.
The Lessee agrees that the participants(s) will comply with the road rules.
The Lessee will notify "The Hire Hut" of any accident or damage and will not ride a bike that occurred a puncture tire or buckled wheel.
The Lessee must call "The Hire Hut" if any damage occurs and can request the deliver of a replacement, a charge will be applicable for replacement bike delivery.
The Lessee acknowledges that renting a bicycle entails known and unanticipated risks that could result in injury or damage to participants, property or third parties and the Lessee accepts that such risks simply cannot be eliminated without jeopardizing the essential qualities of the activities. The risks include among other things; accidents involving other vehicles or bicycles, collision with fixed or moveable objects, falls from the bicycle, the negligence of other operators of motor vehicles or the participant, weather conditions, the participant's own physical conditions, the condition of roads, terrain, or highways and accidents connected with their use, contact with animals or insects.
The Lessee hereby releases and forever discharges and indemnifies and agrees to indemnify and hold harmless " The Hire Hut", their agents, owners, officers, volunteers, participants and employees against any and all claims, demands and causes of action which are in any way connected with participation in this activity or use of "The Hire Hut" equipment or facilities. Such release may be pleaded as a complete defence to any claim, demand or cause of action brought by the Lessee, a participant or anyone claiming through the Lessee against "The Hire Hut".
Any breach of this agreement by the Lessee and/or participant(s) gives "The Hire Hut" the right to terminate this agreement and to immediately repossess the bicycle(s) and accessories.
Road Rules
As a bicycle rider, you are riding a "legal" vehicle. You have the same rights and responsibilities as any other vehicle on the road. As such, cyclists are required to obey the road rules, including stopping at red lights or Stop signs, Giving Way as indicated by signage and giving hand signals when changing direction.
Key road rules applying to cyclists include:-
All cyclists are required by law to wear an approved bicycle helmet. The Police will fine cyclists who ride without an approved helmet.
Cyclists can ride in bus, transit and bicycle lanes.
In Queensland cyclists can ride on footpaths (unless prohibited by a sign), but must keep left and give way to pedestrians.
Cyclists can ride two abreast, but must remain within 1.5m of each other.
While riding on roads, cyclists are required to use bicycle lanes where provided unless impractical to do so.
Obey all traffic lights. Cyclists can ride on the shoulder or traffic lane.
Cyclists can overtake other vehicles on the left unless they are signalling and turning left.
Cyclists must dismount and walk across pedestrian crossings and signed crossings.
Cyclists can turn right from either the right or left hand lane of a multi-lane roundabout as they are changing lanes.
Cyclists can make hook turns at an intersection.
Cyclists are not permitted to double a passenger unless the bicycle can properly carry a second person, i.e. a tandem bicycle or a child seat.
These rules are supplied as a service only. If in any doubt please contact the relevant authority.
For further information in Qld, call the State Cycle and Pedestrian Area on (07) 3253 4386, or visit their website: www.transport.qld.gov.au/cycling